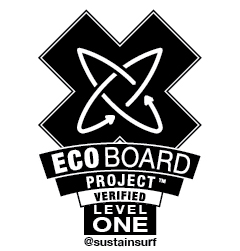 Approved to build
Level One ECOBOARDS
Brand Website
http://www.nspsurfboards.com
Brand Description
Through the forces of Nature, Science and Passion, NSP develops technically advanced surf and SUP boards that deliver durability and performance at fair prices.

"At NSP, we go a step beyond in the design, technology and manufacturing techniques used in all our boards. When you buy an NSP surf or SUP board, you can be sure that only the best research, development, design, manufacturing and customer support goes into everything we do – our goal is to ensure your experience with NSP, both on and off the water, is the best it can possible be." – NSP
Surfboard Sustainability

Approved to build Level One ECOBOARDS using Qualifying Resins.
Brand Sustainability 
NSP's aim is to constantly look for new ideas and technologies to reduce their impact on the ocean as they build new surf and SUP boards, and accessories.

NSP has been using coco-mat fibre in their boards for several years, resulting in reduced use of fibreglass and the shift to a readily renewable organic material. In 2017, Sustainable Surf partnered with Harmless Harvest coconut water and identified the opportunity to use coconut husk fibre waste as a fibre-glass replacement.

The Fair-For-Life Certified, responsibly-sourced fibre from Harmless Harvest is now being used in NSP's Cocomat fibre boards as a result of this new partnership initiated by Sustainable Surf.

NSP uses plant-based epoxy resin from Sicomin and water-based dye pigments, resulting in a low-toxicity, zero-VOC manufacturing process.

NSP is also the first surf and SUP manufacturer to incorporate shape-molded SecureCell EPS foam into their board ranges. This significantly reduces foam waste.
ECOBOARD Audit Results

NSP's Thailand-based manufacturing partner, COBRA International is audited annually by Sustainable Surf. COBRA also publishes an external Sustainability Report.

The audit identified that NSP has comprehensive systems in place to ensure that boards 'carrying' the ECOBOARD label meet the ECOBOARD Project requirements. Their partner has sector-leading processes and procedures that ensure boards are made to the ECOBOARD specification, appropriate protections are in place for staff regarding occupational health and safety risks, and broader environmental impacts are considered and managed.

Comprehensive records of the audit results are held by Sustainable Surf.

Audit date
06/28/2016