| | |
| --- | --- |
| Approved to make | Ecoboard  Level One and Ecoboard Gold Level |
| Brand Website | http://www.firewiresurfboards.com |
| Brand Description | "Firewire believes that the combination of EPS/Epoxy and other high tech materials is where the future of surfboard technology lies. Our goal has always been to combine high performance surfing with increased durability resulting in a more sustainable surfboard that increases the fun factor for everyone who rides them. After multiple WSL event wins over the years, and more recently, Kelly's endorsement of our company by way of his majority stake in Firewire, we believe in our proven track record for innovative designs and technology. The future under your feet."– Mark Price, CEO |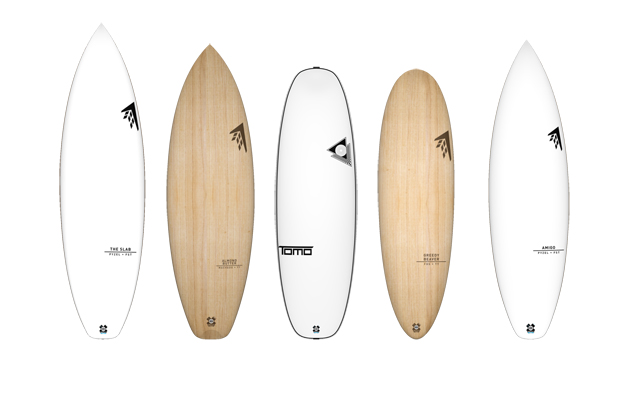 Ecoboard Audit Results
Firewire's Thailand manufacturing site was audited by Sustainable Surf. The company has effective processes to ensure approved materials are used in boards using both Ecoboard labels.
Audit date
07/21/2016
Surfboard Sustainability
Firewire is dedicated to building high performance surfboards and accessories through innovative design, materials and construction methods. They strive to do so with the lowest possible impact on the environment while also giving back to the global surf community through support of various environmental and humanitarian organizations.

Firewire embraced the ECOBOARD program from day one with the introduction of our TIMBERTEK models. The combination of sustainably grown Paulownia wood deck skins and bio-resin throughout, qualified TIMBERTEK for ECOBOARD verification.

In July of 2014 Firewire converted their entire production to Entropy Super Sap bio-resin, and thereby qualified every Firewire board for the Ecoboard Project.

In addition, the Paulownia wood used in the Timbertek boards is sourced from a certified, sustainable resource, and also includes a 20% recycled content EPS core, and 30% bio content Entropy epoxy resin.
| | |
| --- | --- |
| Energy | Firewire has a strong focus on energy efficiency. The Thailand site is currently exploring options for renewable energy. |
| Waste | Waste is minimal for a surfboard manufacturing process. An onsite EPS recycling program is in place. |
| Packaging | Firewire uses BAST recycled content/recyclable packaging for most board ranges. Alternatives are being explored for other packaging used. |
| Health and safety | Worker health and safety (WHS) is at a very high standard. The site proactively promotes and enforces WHS – examples providing appropriate personal protective equipment, emergency response stations, and mandating helmet use for motorcycle and scooter riders entering the site. |
Contact
| | |
| --- | --- |
| Contact Name | FIrewire Surfboards |
| Contact Phone | (760) 893-8702 |
| Contact Email | Mark.Price@firewiresurfboards.com |
| | |
| How Should ECOBOARD Orders Come In? | Order from a dealer. |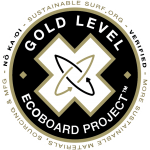 Approved to make

ECOBOARD Gold Level

Brand Website
http://www.ventanasupplies.com/
Brand Description

Ventana Surfboards & Supplies sells hollow reclaimed wooden surfboards,  bodysurfing handplanes, eco apparel and sustainable surf supplies that are loved by adventurers everywhere.

The Ventana team lives and works in Santa Cruz, California where they test their products on some of the most challenging waves on the planet.

Ventana donates at least 5% of profits to ocean conservation. They are an online store and wholesaler with occasional pop-up shops in California.

Ecoboard Audit Results
Ventana's Santa Cruz-based manufacturing site was audited by Sustainable Surf. The company has effective processes to ensure approved materials are used in Gold Level qualifying boards.
Audit date
08/25/2016
Surfboard Sustainability

Ventana's surfboards are produced from reclaimed, recycled and repurposed materials and finished with Entropy ONE bio-based resin.

Wood is generally locally sourced, up-cycled from waste produced by local organizations – giving each board a unique sustainability story. For example, boards may contain Santa Cruz Guitar Company Indian rosewood, redwood floorboards from a Santa Cruz mansion, Alaskan yellow cedar from Monterey Bay Aquarium benches and walnut offcuts from a cabinet shop in Santa Cruz.

The rails on Ventana's boards are made of sustainably-sourced oak cork. This not only provides a beautiful aesthetic to each board, it also results in a more robust, impact-resistant structure.

Fins are also handcrafted from reclaimed wood and glassed in Entropy bio-resin.
Energy
Ventana applies the same 'no-waste' principles that are part of their board manufacturing process to energy management on site.

All machinery and lighting is turned off when not in use, and the layout of the production space takes advantage of natural light.

Being a leased property, Ventana has committed to taking the lead on discussing options for green energy purchasing with the current landlords. With two other Ecoboard builders within the complex – this is a great approach.

Waste
Waste is almost completely designed out of the Ventana board building process:

Offcuts from the surfboards and handplanes, broken saw blades, old drill bits, used resin brushes and the like are saved for use by a featured, local artist, Chris Allen: http://ventana.surf/artist
Ventana share offcuts and other reclaimed materials for use in the collab boards built with Locus Surfboards:http://ventana.surf/locus
They have used sawdust to make soy wax fire starters and have added it to beach trash bottle candles:http://ventana.surf/candles.
They use offcuts from the surfboards in handplanes: http://ventana.surf/handplanes
Some reclaimed wood that isn't used in their surfboards and handplanes is used for apparel hangtags (leash cord key chains) coupled with leftovers from the production of Khordz Mugs made by a partner company: http://ventana.surf/khordz.
Offcuts are also used to create other things, like the 2016 Save The Waves awards this year.

Packaging
N/A – Boards are generally hand delivered.
Health and safety
In addition to eliminating foam, the exclusive use of bio-epoxy results in a low-VOC process. Appropriate personal protective equipment is used on site.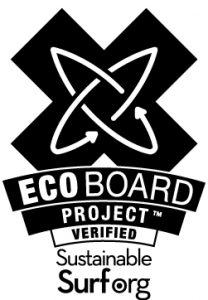 | | |
| --- | --- |
| Qualifying boards | Level One ECOBOARDS |
| Brand Website | http://www.pacificislandssurfboards.com |
| Brand Description | Hollow wooden boards made from salvaged wood from the beach, scrap wood from portable mills, dead and down from our forests, and logs salvaged from lakes |
Surfboard Sustainability
Level One ECOBOARDS using qualifying resins and blanks.

Total VOCs per board from glue – .30 grams
VOCs from the epoxy – 0 (Epoxy is not considered a hazardous waste after curing)
Other than the plastic fin boxes and plugs this is about as green as you can get!

The materials include –  salvaged wood from the beach, scrap wood from portable mills (that would otherwise be burnt), dead and down from our forests, and logs salvaged from lakes.

Hollow wooden surfboards can last a lifetime – something you could hand down to your grandkids! These boards are comparable to cedar strip kayaks and canoes – you can see these boats lasting 80 years plus that are still being used!

The combination of fibreglass and wood will support 5/8 " of deflection (bend the board over a half an inch!) and 309 pounds per square inch before failure!
| | |
| --- | --- |
| Contact Name | Pacific Island Surfboards |
| Contact Phone | (250)722-3219 |
| Contact Email | info@pacificislandssurfboards.com |
|  Social Media | |
| How Should ECOBOARD Orders Come In? | Direct or if you are in the town of Victoria British Columbia –HtO surf shop |