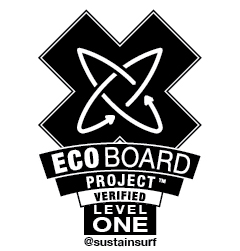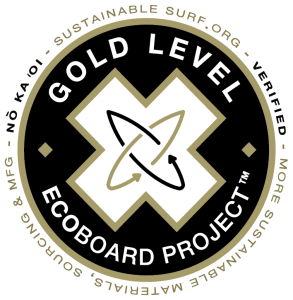 Approved to build

Level One ECOBOARDS and

 

Gold Level ECOBOARDS

Brand Website
http://www.firewiresurfboards.com
Brand Description
Firewire makes a diverse range of boards in EPS/bio-epoxy combinations. With shapes influenced by some of the world's best, including Slater Designs, Tomo, Rob Machado, Mannkine and Wingnut, there's a board for every wave.

"Firewire believes that the combination of EPS/Epoxy and other high tech materials is where the future of surfboard technology lies. Our goal has always been to combine high performance surfing with increased durability resulting in a more sustainable surfboard that increases the fun factor for everyone who rides them. After multiple WSL event wins over the years, and more recently, Kelly's endorsement of our company by way of his majority stake in Firewire, we believe in our proven track record for innovative designs and technology. The future under your feet."– Mark Price, CEO
ECOBOARD Audit Results
Firewire's Thailand manufacturing site was audited by Sustainable Surf. The company has effective processes to ensure Qualified Materials are used in boards using both ECOBOARD Gold Level and Level One labels.

Comprehensive records of the audit results are held by Sustainable Surf.

Audit dates
11/22/2018, 07/20/2017, 07/21/2016
Brand Sustainability
Firewire is approved to build both Level One and Gold Level ECOBOARDS.

The company builds performance surfboards and accessories through innovative design, materials and construction methods. They have a strong emphasis on limiting their impact on the environment and also giving back to the global surf community through the support of various environmental and humanitarian organizations including Surfrider Foundation, Parley, Surfers Against Sewerage, Surfaid and Share the Stoke.

Firewire's TIMBERTEK models have always used ECOBOARD Project Qualified Materials; combining sustainably grown Paulownia wood deck skins and bio-resin throughout.

In 2014 Firewire converted their entire production to Entropy Super Sap bio-resin, and thereby qualified every Firewire board for the Ecoboard Project.

In addition, the Paulownia wood used in the Timbertek boards is sourced from a certified, sustainable resource, and also includes a 20% recycled content EPS core, and 30% bio content Entropy epoxy resin.
| | |
| --- | --- |
| Energy | Firewire is focused on significant energy efficiency projects. The Thailand site is currently exploring options for renewable energy with a longterm plan to install solar panels. |
| Waste | Waste control measures are in place throughout the factory. Resin is very carefully mixed and monitored. Waste EPS is captured and sent for recycling into a range of products. Firewire is also recycling waste EPS into high value building materials. |
| Packaging | Firewire uses BAST recycled content/recyclable packaging for Timbertek models. Alternatives are actively being explored for other packaging used. |
| Health and safety | Worker health and safety (WHS) is at a high standard. The site proactively promotes and enforces WHS. Examples include providing appropriate personal protective equipment, emergency response stations, and mandating helmet use for motorcycle and scooter riders entering the site. |
Contact
| | |
| --- | --- |
| Contact Name | Firewire Surfboards |
| Contact Phone | (760) 893-8702 |
| Contact Email | http://www.firewiresurfboards.com/contact/ |
| | |
| How Should ECOBOARD Orders Come In? | Go to your closest surf shop currently stocking Firewire, Slater Designs and Tomo boards. |
Approved to make

ECOBOARD Gold Level

Brand Website
http://www.ventanasupplies.com/
Brand Description
Ventana Surfboards & Supplies sells hollow reclaimed wooden surfboards,  bodysurfing handplanes, eco apparel and sustainable surf supplies that are loved by adventurers everywhere.

The Ventana team lives and works in Santa Cruz, California where they test their products on some of the most challenging waves on the planet.

Ventana donates at least 5% of profits to ocean conservation. They are an online store and wholesaler with occasional pop-up shops in California.

Ecoboard Audit Results
Ventana's Santa Cruz-based manufacturing site was audited by Sustainable Surf. The company has effective processes to ensure approved materials are used in Gold Level qualifying boards.
Audit date
08/25/2016
Surfboard Sustainability
Ventana's surfboards are produced from reclaimed, recycled and repurposed materials and finished with Entropy ONE bio-based resin.

Wood is generally locally sourced, up-cycled from waste produced by local organizations – giving each board a unique sustainability story. For example, boards may contain Santa Cruz Guitar Company Indian rosewood, redwood floorboards from a Santa Cruz mansion, Alaskan yellow cedar from Monterey Bay Aquarium benches and walnut offcuts from a cabinet shop in Santa Cruz.

The rails on Ventana's boards are made of sustainably-sourced oak cork. This not only provides a beautiful aesthetic to each board, it also results in a more robust, impact-resistant structure.

Fins are also handcrafted from reclaimed wood and glassed in Entropy bio-resin.
Energy
Ventana applies the same 'no-waste' principles that are part of their board manufacturing process to energy management on site.

All machinery and lighting is turned off when not in use, and the layout of the production space takes advantage of natural light.

Being a leased property, Ventana has committed to discussing options for green energy purchasing with the current landlords. With two other Ecoboard builders within the complex – this is a great approach.

Waste
Waste is almost completely designed out of the Ventana board building process:

Offcuts from the surfboards and handplanes, broken saw blades, old drill bits, used resin brushes and the like are saved for use by a featured, local artist, Chris Allen: http://ventana.surf/artist
Ventana share offcuts and other reclaimed materials for use in the collab boards built with Locus Surfboards:http://ventana.surf/locus
They have used sawdust to make soy wax fire starters and have added it to beach trash bottle candles:http://ventana.surf/candles.
They use offcuts from the surfboards in handplanes: http://ventana.surf/handplanes
Some reclaimed wood that isn't used in their surfboards and handplanes is used for apparel hangtags (leash cord key chains) coupled with leftovers from the production of Khordz Mugs made by a partner company: http://ventana.surf/khordz.
Offcuts are also used to create other things, like the 2016 Save The Waves awards this year.

Packaging
N/A – Boards are generally hand delivered.
Health and safety
In addition to eliminating foam, the exclusive use of bio-epoxy results in a low-VOC process. Appropriate personal protective equipment is used on site.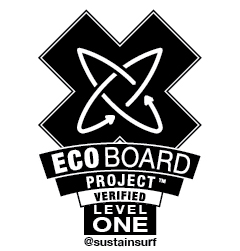 Approved to build
Level One ECOBOARDS
Brand Website
 http://www.brinksurf.com
Brand Description
Unique handmade surfboards that are essentially simple in design, yet obscure in their appearance. Every shape is laden with attention to detail in the functional elements of these creative boards Donald shapes. The boards are an extension of ones feet and built according the surfers stance.

Designed to surf both left and right, applying changes necessary for the way one stands. His asymmetric concepts promote a more free and forgiving flavor according to the limitations of the foot, ankles pivot and weight distributions in a surfers ride.

His fascination for surfboards and passion for design is contagious, creating a welcome invitation toward the innovative craft he builds. It's an entire hands on process that is simple and real, which keeps the beauty of design and craftsmanship his way of life.
| | |
| --- | --- |
| Surfboard Sustainability | Level One ECOBOARDS using qualifying resins and blanks |
| | |
| | |
| --- | --- |
| Contact Name |  Donald Brink |
| Contact Phone | |
| Contact Email | |
|  Social Media | |
| How Should ECOBOARD Orders Come In? |  Contact us directly to order your board. |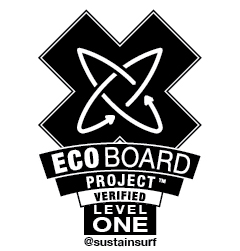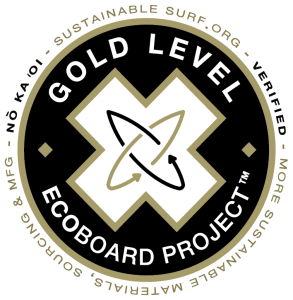 Approved to build

Level One ECOBOARDS and

 

Gold Level ECOBOARDS

Website
 http://www.jabalisurfboards.com/
Brand Description
Jabali Surfboards is a Belgium-based shaper that designs, crafts, and rides handmade wooden wave- and kitesurfboards. Through their personalized design and build approach, they create unique artisan boards that meet the rider's demands.
ECOBOARD Audit Results
Jabali's manufacturing site was remotely audited by Sustainable Surf. The company has effective processes to ensure Qualified Materials are used in boards using both ECOBOARD Gold Level and Level One labels.
Audit date
04/25/2018
Brand Sustainability
Jabali is approved to build both Level One and Gold Level ECOBOARDS.

Sustainably grown balsa wood is used as base material to build both hollow and wood-shell-foam-core surfboards. The core of the latter consists of ecofriendly or recycled foam. Boards are glassed using epoxy with 35% bio-carbon content in fully cured resin.

Boards are glassed using epoxy with 35% bio-carbon content in fully cured resin.
Jabali Surfboards continuously works on reducing environmental impact by making boards more durable, reducing waste and using more sustainable materials.
Usable wood and glass offcuts are used in future board builds for extra reinforcements, leash loops, (glassed on) fins and repairs. Any other wood is used to light the stove and heat the house.

Jabali also visits surf-schools, clubs and festivals to promote more sustainable surfboards, share experiences and educate people.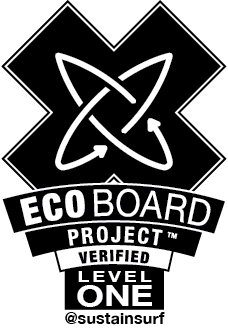 Approved to make
Level One ECOBOARDS
Brand Website
 http://www.wawawave.com
Brand Description
Inspired by the intuited hydrodynamic genius of the ancient Hawaiian board builders,  Wawa Surfboards craft eco-friendly boards using hands, heads and hearts.

"Quality, respect for our roots and a belief in the sanctity of nature are cornerstones in all we design, build and ride." – Wawa Wooden Surfboards
Surfboard Sustainability
Commitments
Level One ECOBOARDS using qualifying resins and blanks.

STRINGERS: Locally harvested Karoo Agave or Sisal, as well as locally grown

BLANKS: Erythrina or CoralCORE: Recycled EPS & PU blanks + Recyclable EPS (Produced locally)

RESIN: Entropy Bio Epoxy Resin

CLOTH: Juta or Hessian + Hempcloth + Cork + Ply

Eco+ with each one of Wawa's boards:
– Wooden leash plugs (locally harvested wood)
– Stringers in each blank is made by us, using locally harvested Karoo Agave or Sisal
– Wawa natural surf wax

Wawa's latest range of surfboards are made out of EPS with only wood (ply and cork) that are sealed in several layers of oil. No resin and no fiberglass!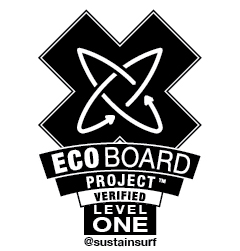 Approved to build
Level One ECOBOARDS
Website
https://www.woodsurfco.com/
Brand Description 
Wood Surf Co. are taking sustainable surfboard production into their own hands.
This Byron Bay closed loop seed-to-surfboard operation are pushing towards an ethically responsible approach to surfboard building, hand in hand with some of Australia's best shapers and environmentally progressive individuals.The company makes traditional & performance surfboards, Alaias, Paipos, DIY board building kits, and surf accessories.
Surfboard Sustainability
Level One ECOBOARDS using Qualified resins

With respect to our environment the company emphasis use of sustainably grown local plantation timbers, natural fiber board strengthening weaves, low VOC bio-resins, natural finishing waxes/oils and are working to promote native rainforest regrowth and biodiversity.
| | |
| --- | --- |
| Contact Name | Dana Watson |
| Contact Phone | (045) 126-4051 |
| Contact Email | info@woodsurfco.com |
|  Instagram | @woodsurfco |
| How Should ECOBOARD Orders Come In? | Retail/Wholesale enquiries through our email or on the phone |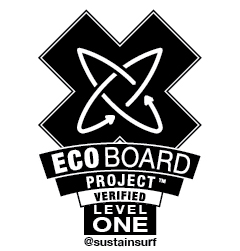 Approved to build

Level One ECOBOARDS

Website
https://www.etcsurfboards.com.au/
Brand Description

ETC stands for Epoxy Timber Constructions. The boards have a layer of paulownia sandwiched between layers of fiberglass on the deck. This makes the board incredibly strong and resistant to pressure dings. The process of building these boards involves vacuum bagging which infuses resin deep into the eps core, which also increases strength. The resultant board is lighter yet much stronger than a traditional PU surfboard. "I only build shortboards (up to 7ft) and mainly create designs that suit the predominate surf conditions we get here on the east coast of Australia." Custom orders are also available.

"I started building this style of board in a bid to get away from the toxic petro-chemicals predominantly being used in the surf industry. Hollow timber boards are great, however I feel they don't allow the level of performance required for a shortboard. Using composite methods and combining recyclable eps foam, natural paulownia wood and bio-epoxy resins, high performance is still maintained whilst obtaining massive improvements in strength and board longevity."

"I also build an eco-board that is not in-cased in a layer of fiberglass. Instead, the eps core has a skin of paulownia vacuum bagged to it and is finished in lanolin oil. When the lanolin gets wet it becomes "sticky" so no wax is required. It is about as green as you can get when it comes to eco surfboards".
Surfboard Sustainability
Level One ECOBOARDS using Qualified Materials.

Use of sustainably harvested paulownia wood in boards
Use of entropy super-sap epoxy resin.

Off-cuts of paulownia are re-used in decks on new boards. Any other unusable wood is taken on camping trips and used as firewood for cooking.

Use of eps foam: "although its not the best eco material at least it is recyclable – when better materials become available and are financially viable I will endeavor to use them."

A 6kw solar system helps run the tool. "I only use power tools during the day when my electricity is free (with the exception of vacuum bagging as I only glass at night in falling temperatures)."
| | |
| --- | --- |
| Contact Name | Stephen Hann |
| Contact Phone | (043) 220-2400 |
| Contact Email | etcboards@gmail.com |
| Instagram | green_stix |
| How Should ECOBOARD Orders Come In? | Direct contact either through Instagram or email |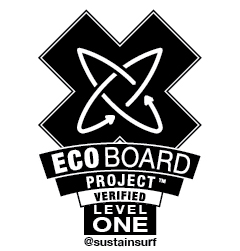 Approved to build

Level One ECOBOARDS

Website
www.arbosurfboards.blogspot.co.uk
Brand Description
ARBO makes bespoke hollow wooden surfboards and run build-your-own courses in Europe and the UK.
Although they sometimes do other interesting projects like recycled cork boards, no glass-all wood, cork-wood sandwich paipos, handplanes, skateboards, about 80% of the boards they build are paulownia skins over a poplar plywood skeleton, sealed and reinforced with a layer of 4oz. fibreglass and entropy epoxy resin.Shapes are postmodern and always tailored to their customers – a group who mainly participate in surfing as a holiday or weekend activity. Designs reflect that and most of the time ARBO's boards have a little bit of extra volume, but always according to the surfers ability, weight, surf area and surfing style.
Surfboard Sustainability
Level One ECOBOARDS using Qualified Materials.

Sustainability is embedded with ARBO's brand and identity. Boards are made using a range of more sustainable materials including:

Sustainably sourced, plantation grown paulownia for skins and rails – with offcuts reused for skateboards, handplanes and paipos.
A sustainably sourced european poplar skeletons.
Entropy resin with a laminating technique that has near zero wastage.
Recycled XPS insulation foam as finbox reinforcements.
Green energy sourced from ecotricity.
Recycled cardboard packaging from local surfshops.

"The key to a sustainable surfboard is to make it last. Our hope is that a customer will look after a personalised, bespoke board differently than a generic off-the-shelf product and value it higher.
A big part of our philosophy is keeping things small… e.g. we have the smallest possible workshop to reduce heating. our company car runs on lpg, is euro5 emissions certified and is as small as possible. Instead of inviting lots of people to our place in cornwall to build their boards, we come to their place and set up temporary workshops at co-working projects. Better having one person travelling to meet the people where they live than 5 people travelling to meet us down here in cornwall…

We do not advertise our boards as 'ecoboards', 'sustainable', 'green', etc. but encourage our customers instead or additionally to put their focus on changes in lifestyle choices and habits.
Advertising is kept to a minimum and without not-product related 'brand-image' lifestyle marketing.
We believe in making more eco-friendly surfboards but think that other things in a surfers life will have a much bigger impact – just like Sustainable Surf" – Paul Reisberg, ARBO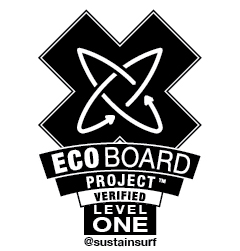 | | |
| --- | --- |
| Approved to build | Level One ECOBOARDS |
| Website | http://www.BlueFinRaceBoards.com |
| Brand Description | BlueFin Stand Up Paddleboards are hand-crafted, high performance SUP race boards with the look and style of classic balsa big wave surfboards |
Surfboard Sustainability
Level One ECOBOARDS using Qualified Materials.

BlueFin's boards have a light EPS core with a composite sandwich skin of Entropy Super Sap resin, carbon fiber, ⅛" balsa, and fiberglass.

Wastes and offcuts are reused and recycled wherever possible, and shop lighting is 90% LED.