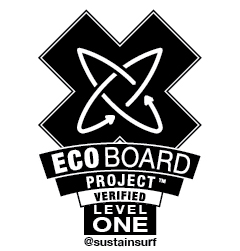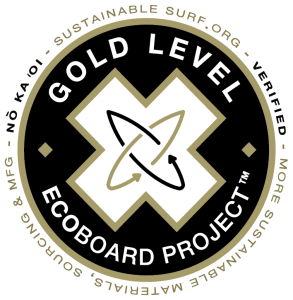 Approved to build

Level One ECOBOARDS and

 

Gold Level ECOBOARDS

Brand Website
http://www.firewiresurfboards.com
Brand Description
Firewire makes a diverse range of boards in EPS/bio-epoxy combinations. With shapes influenced by some of the world's best, including Slater Designs, Tomo, Rob Machado, Mannkine and Wingnut, there's a board for every wave.

"Firewire believes that the combination of EPS/Epoxy and other high tech materials is where the future of surfboard technology lies. Our goal has always been to combine high performance surfing with increased durability resulting in a more sustainable surfboard that increases the fun factor for everyone who rides them. After multiple WSL event wins over the years, and more recently, Kelly's endorsement of our company by way of his majority stake in Firewire, we believe in our proven track record for innovative designs and technology. The future under your feet."– Mark Price, CEO
ECOBOARD Audit Results
Firewire's Thailand manufacturing site was audited by Sustainable Surf. The company has effective processes to ensure Qualified Materials are used in boards using both ECOBOARD Gold Level and Level One labels.

Comprehensive records of the audit results are held by Sustainable Surf.

Audit dates
11/22/2018, 07/20/2017, 07/21/2016
Brand Sustainability
Firewire is approved to build both Level One and Gold Level ECOBOARDS.

The company builds performance surfboards and accessories through innovative design, materials and construction methods. They have a strong emphasis on limiting their impact on the environment and also giving back to the global surf community through the support of various environmental and humanitarian organizations including Surfrider Foundation, Parley, Surfers Against Sewerage, Surfaid and Share the Stoke.

Firewire's TIMBERTEK models have always used ECOBOARD Project Qualified Materials; combining sustainably grown Paulownia wood deck skins and bio-resin throughout.

In 2014 Firewire converted their entire production to Entropy Super Sap bio-resin, and thereby qualified every Firewire board for the Ecoboard Project.

In addition, the Paulownia wood used in the Timbertek boards is sourced from a certified, sustainable resource, and also includes a 20% recycled content EPS core, and 30% bio content Entropy epoxy resin.
| | |
| --- | --- |
| Energy | Firewire is focused on significant energy efficiency projects. The Thailand site is currently exploring options for renewable energy with a longterm plan to install solar panels. |
| Waste | Waste control measures are in place throughout the factory. Resin is very carefully mixed and monitored. Waste EPS is captured and sent for recycling into a range of products. Firewire is also recycling waste EPS into high value building materials. |
| Packaging | Firewire uses BAST recycled content/recyclable packaging for Timbertek models. Alternatives are actively being explored for other packaging used. |
| Health and safety | Worker health and safety (WHS) is at a high standard. The site proactively promotes and enforces WHS. Examples include providing appropriate personal protective equipment, emergency response stations, and mandating helmet use for motorcycle and scooter riders entering the site. |
Contact
| | |
| --- | --- |
| Contact Name | Firewire Surfboards |
| Contact Phone | (760) 893-8702 |
| Contact Email | http://www.firewiresurfboards.com/contact/ |
| | |
| How Should ECOBOARD Orders Come In? | Go to your closest surf shop currently stocking Firewire, Slater Designs and Tomo boards. |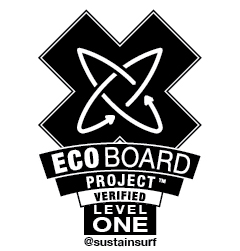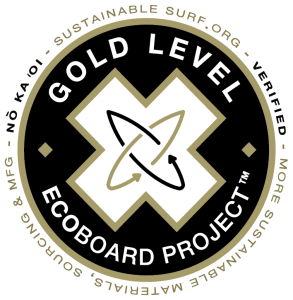 Approved to build
Level One ECOBOARDS and Gold Level ECOBOARDS
Brand Website
http://www.cisurfboards.com
Brand Description
Since 1969, Channel Islands Surfboards has been dedicated to performance and quality through hard work, innovation, and originality. Over the last 43 years, Channel Islands has grown from a local grass-roots operation to a cutting edge organization, catering to the best surfers in the world. It started with hard-core surfing and quality in mind and these guidelines have brought us through four decades of constant change in the surf industry. Channel Islands will shape the new millennium with innovative design and quality as our main focus.

"The driving force behind Channel Islands Surfboards is the demand on design created by the world's greatest surfers, allowing for the highest performance surfing possible. To provide the most dedicated surfers with the most advanced, performance designs is my passion" – Al Merrick, Designer/Shaper

CI is a privately held organization focused on rider-driven product and manufacturing the best possible equipment available. Located in a state-of-the-art facility just blocks from Rincon Del Mar, the CI HQ represents a foundation for developing, testing, and building boards while providing jobs in Santa Barbara for many years to come.
ECOBOARD Audit Results
Channel Islands' California-based manufacturing site was audited by Sustainable Surf.

The audit identified that Channel Islands Surfboards has appropriate systems in place to ensure that boards 'carrying the ECOBOARD label meet the ECOBOARD Project requirements. The organization has industry-leading processes and procedures to ensure boards are made to the ECOBOARD specification, appropriate protections are in place for staff regarding occupational health and safety risks, and broader environmental impacts are considered and form an integral part of the brand.

Comprehensive records of the audit results are held by Sustainable Surf.

Audit date
10/25/2016, 04/06/2018
Brand Sustainability
Channel Islands is approved to build both Level One and Gold Level ECOBOARDS.

The company builds high-performance surfboards and accessories ridden by some of the world's best surfers. Many Channel Islands Team Riders are riding ECOBOARDS including: Lakey Peterson, Alex Gray, Connor Coffin and Dane Gudauskas.

Channel Islands is one of the leading suppliers of ECOBOARDS and currently offers a bio-resin and/or foam build option in custom shapes.

The brand's recently introduced SpineTek range has a strong focus on sustainability and their Mini ECOBOARD is the first Gold Level production board built in the USA.

Channel Islands played a key role in helping to develop Sustainable Surf's ECOBOARD Project lifecycle study. Key points of manufacturing data were provided and Channel Island's staff helped to test the data and the study results.
| | |
| --- | --- |
| Contact Name | |
| Contact Phone | 877-787-3124 |
| Contact Email | info@cisurfboards.com |
| | |
| How Should ECOBOARD Orders Come In? | Visit a dealer to look for an ECOBOARD in the racks, or make your custom order. Online orders also allow for custom selection of an ECOBOARD construction. |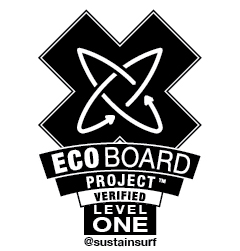 Approved to build
Level One ECOBOARDS
Brand Website
http://airush.com/
Brand Description
Airush fuses their passion for innovation with the demands of the most discerning riders. The focus on creating the perfect kiteboarding experience through testing and innovative technical design, while always maintaining the highest level of craftsmanship.

"As outdoor athletes we engage deeply with our environment and we understand that it is the duty of all of us to actively seek a way of life that does less harm to the environment and leads to a sustainable lifestyle. At Airush we have increasingly focused on our environmental footprint over the last few years, and this will continue to be at the core of all that we do as a brand." – Airush
Surfboard Sustainability

Approved to build Level One ECOBOARDS using Qualifying Resins.
Brand Sustainability 
Airush's first step in terms of environmental responsibility has always been to build only the highest quality products possible, so that they can last for years. This was first evident five years ago when Airush became the first company in the industry to offer a full two year breakage warranty on freeride twintips. And they are now offering the Airush Load Frame, which effectively doubles the performance lifespan of the kite.

Airush has also been working with companies such as Entropy and Sicomin to help to introduce plant-based, reduced carbon footprint resins to mass production processes, and have been sharing as much of their knowledge with the industry as possible.

This philosophy is championed in their Team Series Reefer, which showcases Airush's desire to connect more strongly with the environment, along with the value of pushing riding boundaries.

With strong ties to sustainability-leader Starboard, Airush is also seeking to reduce carbon footprints, leave a positive impact on communities where they operate and work with the kitesurfing community to share best practice.
ECOBOARD Audit Results
Airush's Thailand-based manufacturing partner was audited by Sustainable Surf.

The audit identified that Airush has comprehensive systems in place to ensure that boards 'carrying' the ECOBOARD label meet the ECOBOARD Project requirements. Their partner has sector-leading processes and procedures that ensure boards are made to the ECOBOARD specification, appropriate protections are in place for staff regarding occupational health and safety risks, and broader environmental impacts are considered and managed.

Comprehensive records of the audit results are held by Sustainable Surf.

Audit date
06/28/2016
| | |
| --- | --- |
| Contact Name | |
| Contact Phone | |
| Contact Email | |
|  Social Media |  @airushkites |
| How Should ECOBOARD Orders Come In? | |