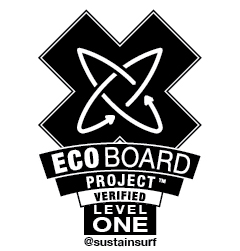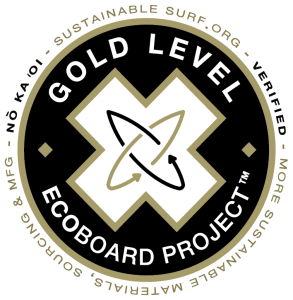 Approved to build

Level One ECOBOARDS and

 Gold Level ECOBOARDS
Brand Website
https://earthtechsurf.com/
Brand Description

In their California-based factory 

Earth Technologies custom build hand-crafted and artistic surfcraft that creates stoke in and out of the water.

 

"Simply put, we make the raddest shortboards, mid-lengths, longboards, and SUPs, that also keep our Mother Earth stoked by using only the most eco-friendly and sustainable materials and processes."

Earth Technologies glass boards in Qualified Materials for some of the best shapers, including Lost, Maurice Cole and Roberts.

Earth Technologies also feature their craftsmen's house-brands:
Ecoboard Audit Results
Earth Technologies manufacturing site was audited by Sustainable Surf. The company has effective processes to ensure approved materials are used in boards using both ECOBOARD labels.
Audit date
9/1/2016
Surfboard Sustainability
Efforts

Earth Technologies operates under 3 Core "E" Principles.

1. Excellency in Craftsmanship. We take great pride in our American Hand-Crafted, California made boards. Our boards are the anti-thesis to disposable Asian "pop-outs" as they are made by the highest skilled craftsmen in the business and made with the best performing materials resulting in "Rad Boards, Made Right.."


2. Eco-Sustainability.  We are all Ocean-Lovers. As such, over the years we've painstakingly tried and perfected performance board building utilizing only the most eco-friendly materials (EPS recycled blanks, bio epoxy resin, wood veneers) and processes (recycling foam blank cut offs, bio epoxy resins, etc.) featuring our renown Earth Technologies board construction.


3. Education. In addition to being surfers, we are also story-tellers. We have made a deliberate attempt through our many communication channels (social media, website, printed board catalogs, etc.) to share with others our unique eco board construction and demonstrate why there need not be a tradeoff between performance and eco-sustainability.
| | |
| --- | --- |
| Energy | Has measured their energy consumption for the past year. Currently looking for ways to reduce energy consumption. |
| Waste | When using Super Sap resin, waste resin is frequently applied to hand-planes. When using Re-Rez, waste resin is saved and will be returned to Re-Rez.  Clean fiberglass off-cuts are saved and sent to Push Fins. EPS scraps are saved and recycled with Marko Foam. |
| Packaging |  N/A – Boards are generally hand-delivered. |
| Health and safety | Polyester resin is not used by the factory. All employees are strongly encouraged to wear protective clothing to keep epoxy away from skin. |
Contact
| | |
| --- | --- |
| Contact Name |  Ryan Harris |
| Contact Phone | |
| Contact Email |  ryan.etechboards@gmail.com |
| | |
| How Should ECOBOARD Orders Come In? | Email Ryan to order a board from one of the house brands, or to arrange a glassing order. |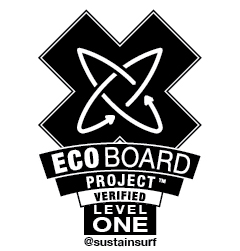 Approved to build

Level One ECOBOARDS

Website
http://www.pureglass.com
Brand Description
PureGlass is a premier manufacturer of surfboards in Southern California. They build boards for shapers all over the world, for garage shapers, for surf shops with their own brand, for FutureFlex, for corporate accounts, and for everyone that wants one of the best quality glass job in the business. PureGlass can build boards at any stage of the process or any method of getting high-quality surfboards in the hands of the customer.

"We can use our on-site shaping machine, we can hand shape, we can glass, we can design and provide graphics, we can employ resin techniques and airsprays, we can sand, gloss and polish, and we can build boards to suit the needs of each and every shaper."

    
| | |
| --- | --- |
| Surfboard Sustainability | Level One ECOBOARDS using Qualified resins and blanks |
| | |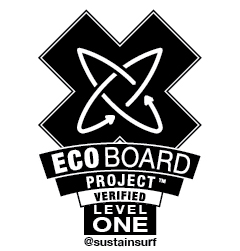 Approved to build
Level One ECOBOARDS
Brand Website
http://www.cobrainter.com/
Brand Description

Cobra International is one of the largest OEM manufacturers of composite Watersports equipment in the World, with a strong reputation in their core markets of Windsurfing, Surfing, Stand up Paddle (SUP), and Kitesurfing.The company's focus is providing customers with production solutions to deliver the highest quality products to meet each customers specific needs.

Leveraging its technology and expertise in fiber-reinforced composites, Cobra also manufactures a wide range of products and accessories for other recreational and industrial applications.

Surf
Cobra partners some of the best brands, shapers and designers in the world and bring their premier surfing models to the surfing community.

Stand up Paddle (SUP)
From Entry level flat water boards, to contest winning surf constructions and the fastest race boards on the water Cobra are continuously developing new specific SUP technologies.

Windsurf
Cobra has been building some of the best Windsurfing boards for Windsurfer's worldwide since 1978.

Kitesurf
Cobra has been at the forefront of developing kite-boards for the last 15 years and will continue to develop cutting edge solutions for the kitesurfing market.
ECOBOARD Audit Results
Cobra International's Thailand manufacturing site was audited by Sustainable Surf.

View a summary of the audit here.

The audit identified that Cobra International has comprehensive systems in place to ensure that boards 'carrying' the ECOBOARD label meet the ECOBOARD Project requirements. The organization has sector-leading processes and procedures that ensure boards are made to the ECOBOARD specification, appropriate protections are in place for staff regarding occupational health and safety risks, and broader environmental impacts are considered and managed.

Comprehensive records of the audit results are held by Sustainable Surf.

Audit date
07/19/2017, 06/28/2016
Company Sustainability
Cobra International is approved to build Level One ECOBOARDS.

For a full description of Cobra's sustainability programs and achievements, please refer to their annual sustainability report.

Beyond participation in the ECOBOARD Project, Cobra is actively pursuing an extensive range of environmental initiatives to improve energy inputs, waste and water management, shipping and packaging, and supply chain sustainability.

In 2001, Cobra was certified to ISO 9000  and have now upgraded their quality management systems to ISO 9001:2008. The company believes that safe workplace, good environment, and healthy employees are key drivers of good processes and high quality products.

Cobra believes its success lies in the hands of its employees. Product knowledge and an acute understanding of how product's are used by customers is very important to product output. Cobra encourages all employees to engage with the water sports products it manufactures through an employee Windsurfing Club, where employees can participate in Windsurfing, Kitesurfing, Kayaking and Stand-up-paddle boarding. On any weekend you will regularly see Cobra Staff on the water.
| | |
| --- | --- |
| Energy | Cobra operates a comprehensive energy management system to minimize energy inputs. |
| Waste | Waste management is a key focus for Cobra. Material use for board production is carefully measured and managed. Foam is made onsite to close tolerances and any waste is recycled. Cobra operates a state of the art waste water management system, ensuring no waste water is released into the environment. |
| Health and safety | Worker health and safety (WHS) is at a very high standard. Cobra has implemented many key activities and programs to promote the improvement of safety. These are integrated into the organization's QSHE Program, which is fully supported by the CEO and Executive Management Team. |
| | |