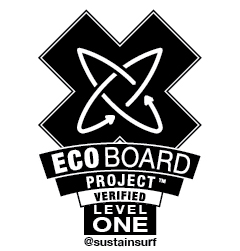 Approved to build
Level One ECOBOARDS
Brand Website
http://airush.com/
Brand Description
Airush fuses their passion for innovation with the demands of the most discerning riders. The focus on creating the perfect kiteboarding experience through testing and innovative technical design, while always maintaining the highest level of craftsmanship.

"As outdoor athletes we engage deeply with our environment and we understand that it is the duty of all of us to actively seek a way of life that does less harm to the environment and leads to a sustainable lifestyle. At Airush we have increasingly focused on our environmental footprint over the last few years, and this will continue to be at the core of all that we do as a brand." – Airush
Surfboard Sustainability

Approved to build Level One ECOBOARDS using Qualifying Resins.
Brand Sustainability 
Airush's first step in terms of environmental responsibility has always been to build only the highest quality products possible, so that they can last for years. This was first evident five years ago when Airush became the first company in the industry to offer a full two year breakage warranty on freeride twintips. And they are now offering the Airush Load Frame, which effectively doubles the performance lifespan of the kite.

Airush has also been working with companies such as Entropy and Sicomin to help to introduce plant-based, reduced carbon footprint resins to mass production processes, and have been sharing as much of their knowledge with the industry as possible.

This philosophy is championed in their Team Series Reefer, which showcases Airush's desire to connect more strongly with the environment, along with the value of pushing riding boundaries.

With strong ties to sustainability-leader Starboard, Airush is also seeking to reduce carbon footprints, leave a positive impact on communities where they operate and work with the kitesurfing community to share best practice.
ECOBOARD Audit Results
Airush's Thailand-based manufacturing partner was audited by Sustainable Surf.

The audit identified that Airush has comprehensive systems in place to ensure that boards 'carrying' the ECOBOARD label meet the ECOBOARD Project requirements. Their partner has sector-leading processes and procedures that ensure boards are made to the ECOBOARD specification, appropriate protections are in place for staff regarding occupational health and safety risks, and broader environmental impacts are considered and managed.

Comprehensive records of the audit results are held by Sustainable Surf.

Audit date
06/28/2016
| | |
| --- | --- |
| Contact Name | |
| Contact Phone | |
| Contact Email | |
|  Social Media |  @airushkites |
| How Should ECOBOARD Orders Come In? | |