An ECOBOARD is a high-performance sustainable board. ECOBOARDS have the qualities we've come to expect from modern boards, while having reduced environmental and toxic impacts (through the use of more sustainable materials and manufacturing processes).
When you see a board displaying the ECOBOARD Gold Level or Level One label you can guarantee that it:
Has a measurably reduced carbon footprint

Uses renewable, recycled and/or up-cycled material inputs

Uses materials and processes that reduce toxicity during manufacturing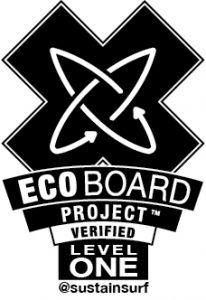 ECOBOARD Level One, makes it easy for any board builder to get started making ECOBOARDS. By using one of the Qualified Materials (core or resin), the board will have a significant reduction in environmental footprint without affecting performance, durability, or quality.
To carry the ECOBOARD Level One designation, a board must:
Use at least one Qualified Material in its construction

Plant-based, low to zero VOC resin with at least 19% bio-carbon content
Foam core with at least 25% recycled or plant-based content
Wood structure that significantly reduces foam or resin content

Be manufactured by an approved ECOBOARD builder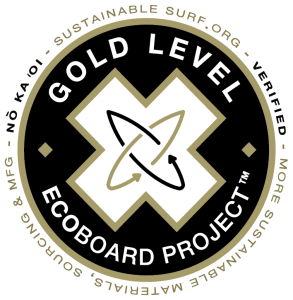 The newest evolution in the ECOBOARD Project, ECOBOARD Gold Level rewards the top sustainable boards and board builders – those with the greatest environmental impact reduction. Informed by Sustainable Surf's ECOBOARD lifecycle assessment, boards carrying this label are using more sustainable materials, sourced from responsible supply chains, and made by board builders with improved manufacturing processes.
To carry the ECOBOARD Gold Level designation, a board must:
Use at least one Qualified Material specific to the Gold Level designation, and one other Qualified Material of any level (core or resin)
Be manufactured in a facility that has been audited to produce Gold Level ECOBOARDS