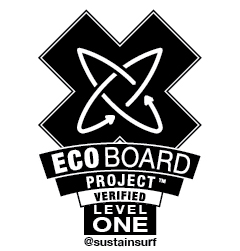 | | |
| --- | --- |
| Approved to build | Level One ECOBOARDS |
| Website | http://www.woodoo.si |
| Brand Description | Woodoo is a wakeboard and wakeskate company from Slovenia that make more sustainable boards. The company uses local paulownia wood, Entropy Resins plant-based epoxy, basalt and hemp fibres. They use their own bio-technology for rails called CeluRails. |
Surfboard Sustainability
Level One ECOBOARDS using Qualified Materials.

Woodoo uses Entropy plant-based resing and ocally grown paulownia from SiCore. The compnay ralso uses basalt fibres to replace fibreglass, and hemp fibres for additional strength. Standard rails on wakeboards are made from ABS; Woodoo uses CeluRails – made from waste paper.

All waste is recycled and waste wood is used for additional heating. 75% of electricity used by Woodoo is from renewable sources.