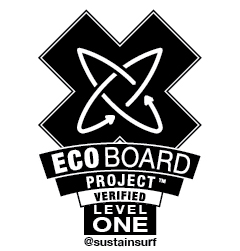 Approved to build
Level One ECOBOARDS
Website
https://www.woodsurfco.com/
Brand Description 
Wood Surf Co. are taking sustainable surfboard production into their own hands.
This Byron Bay closed loop seed-to-surfboard operation are pushing towards an ethically responsible approach to surfboard building, hand in hand with some of Australia's best shapers and environmentally progressive individuals.The company makes traditional & performance surfboards, Alaias, Paipos, DIY board building kits, and surf accessories.
Surfboard Sustainability
Level One ECOBOARDS using Qualified resins

With respect to our environment the company emphasis use of sustainably grown local plantation timbers, natural fiber board strengthening weaves, low VOC bio-resins, natural finishing waxes/oils and are working to promote native rainforest regrowth and biodiversity.
| | |
| --- | --- |
| Contact Name | Dana Watson |
| Contact Phone | (045) 126-4051 |
| Contact Email | info@woodsurfco.com |
|  Instagram | @woodsurfco |
| How Should ECOBOARD Orders Come In? | Retail/Wholesale enquiries through our email or on the phone |