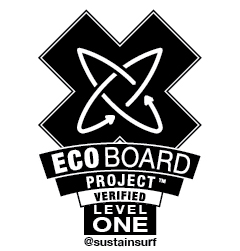 | | |
| --- | --- |
| Approved to build | Level One ECOBOARDS |
| Website | https://www.facebook.com/wetcoastsurfco/ |
| Brand Description | Wetcoast is the housebrand developed out of a surfboard shaping collective that was founded in 2010 in Vancouver, BC around a group of likeminded individuals. As a surfshop Wetcoast is the premiere board repair facility and after service shop for western Canada. Wetcoast makes about 15-20 custom boards per year, everything from small wakesurfboards to full-size touring Paddleboards. They have a focus on producing high-quality surf craft that is built to last. |
Surfboard Sustainability
Level One ECOBOARDS using Qualified Materials.

Wetcoast uses Entropy plant-based resin and Marko recycled EPS foam blanks.

Wetcoast is committed to waste reduction and was an early adopter of SuperSap and MarkoFoam Enviroblanks. From keeping damaged consumer products out of landfills to ensuring a Near-Zero VOC working environment they are committed to sustainable end-to-end manufacturing and repair work which is safe for builders and the end-user. The shop collective has grown organically since it's inception in 2010 out of a shipping container in Richmond, BC to a small 2000 SqFt light-industrial workspace.

In 2014 they laminated their first Hemp reinforced Paddleboard and have since started using Flax Bio-composites from B-Comp in the manufacturing of high-end SUPs and Longboards to ensure longevity and durability. They recycle, upcycle, and repurpose just about everything in the shop from gloves, to post-coffee mixing cups and stir sticks. Offcuts of fibreglass are saved for future repair work and their stand-by repair rack ensures that leftover resins are used to fix boards. What little waste they do produce is professionally managed by Waste Management Services.
| | |
| --- | --- |
| Contact Name | James Stewart |
| Contact Phone | (778) 378-4235 |
| Contact Email | wetcoastsurfco@gmail.com |
| Instagram | wetcoastsurfco |
| How Should ECOBOARD Orders Come In? | Instagram, Facebook and Direct to the public. |