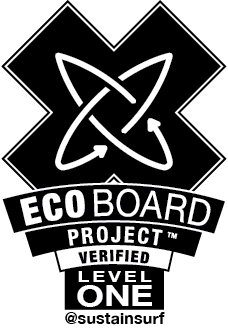 Approved to make
Level One ECOBOARDS
Brand Website
 http://www.wawawave.com
Brand Description
Inspired by the intuited hydrodynamic genius of the ancient Hawaiian board builders,  Wawa Surfboards craft eco-friendly boards using hands, heads and hearts.

"Quality, respect for our roots and a belief in the sanctity of nature are cornerstones in all we design, build and ride." – Wawa Wooden Surfboards
Surfboard Sustainability
Commitments
Level One ECOBOARDS using qualifying resins and blanks.

STRINGERS: Locally harvested Karoo Agave or Sisal, as well as locally grown

BLANKS: Erythrina or CoralCORE: Recycled EPS & PU blanks + Recyclable EPS (Produced locally)

RESIN: Entropy Bio Epoxy Resin

CLOTH: Juta or Hessian + Hempcloth + Cork + Ply

Eco+ with each one of Wawa's boards:
– Wooden leash plugs (locally harvested wood)
– Stringers in each blank is made by us, using locally harvested Karoo Agave or Sisal
– Wawa natural surf wax

Wawa's latest range of surfboards are made out of EPS with only wood (ply and cork) that are sealed in several layers of oil. No resin and no fiberglass!