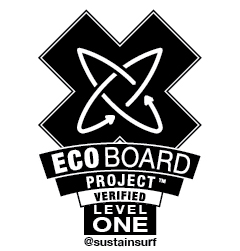 Approved to build
Level One ECOBOARDS
Brand Website
 http://www.vecsurfboards.com
Brand Description
Otherwise known as "Vec"- Shawn is known throughout the world as a brand name of Surf. His mother, a native Hawaiian, and father, a native Cape Codder, it was inevitable that he would fall in love with surfing and the ocean.

He wasn't always this way. Shawn actually started his action sport's career as a pro snowboarder for Burton Snowboards and was the first pick for the US Olympic Team 1990. After an unfortunate accident where he injured his spine- he flew to Hawaii and learned to ride the big waves in Oahu.

But his heart was still on the Cape. So he packed his bags and headed home. He started the Boarding House. He helped pioneer the first pro contests in New England and traveled the coast with sponsors then sold the shop to his partner to move to Kauai to end finding himself a gifted surfboard shaper.

10,000 shaped surfboards later, shaping boards for Vec, Dick Brewer and Billy Hamilton and being one of the pioneers of the Stand Up Paddleboard. He has made boards for some of the best surfers throughout the world and is still surfing shooting pics and traveling to cold pristine locales for his sponsors and has been known to swim with Great White sharks.

His love for palm trees are getting lost as his love for pine trees is growing. New England is his home and he is trying to bring the community together through NESurf.com. Trying to create a image trough the site and through the clothes NESurf is developing. Watch for Vec in the future, you never know what he will be shaping, who will be riding them and where he will be surfing.
Surfboard Sustainability
Commitment
Ecoboard Level One boards using qualifying resins and blanks
| | |
| --- | --- |
| Contact Name | Shawn Vecchione |
| Contact Phone |  (808)634-8776 |
| Contact Email |  vec@vecsurfboards.com |
|  Social Media | |
| How Should ECOBOARD Orders Come In? | Contact directly via phone or email |