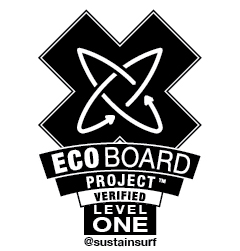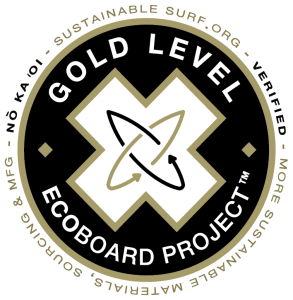 Approved to build
Level One ECOBOARDS and 

Gold Level ECOBOARDS

Brand Website
http://surfboardsfrommars.com
Brand Description
Surfboards from Mars are 100% handcrafted by Mark Sarinana in Carlsbad, California. Surfboard models are generally made with wider, shorter templates where volume, surface area, and aspect ratio are taken into account. The overall goal is to create performance shortboards, fishes, and hybrids that can be surfed in a variety of wave moods. The boards generally have higher amounts of concaves, creating lift and allowing water to flow for added speed, and tapered rail lines which allow quick rail sinking into hollow waves. The idea is to have a board that can survive gutless surf; where width and area come into play; and can handle tubes- where thin rails and foam distribution are key. Our surfboard models are visually unconventional custom shapes, merged with classic styles to produce unique, quality designs.

Surfboards From Mars are shaped with lighter, recyclable, high quality, and high density EPS foam, and are glassed with environmentally conscious Bio Epoxy (Super Sap BRT) resin. These resins are the best on the market and have been proven to have a stronger, lighter, and more flexible lifespan than traditional surfboard resin, and are also a much cleaner choice for the environment.
ECOBOARD Audit Results
Surboards From Mars' manufacturing site was audited by Sustainable Surf. The company has effective processes to ensure Qualified Materials are used in boards using both ECOBOARD Gold Level and Level One labels.

Comprehensive records of the audit results are held by Sustainable Surf.

Audit date
12/21/2016
Brand Sustainability
Surfboards From Mars is approved to build both Level One and Gold Level ECOBOARDS.

The company focusses on sustainable surfboard designs using Entropy Resins and Marko EnviroFoam blanks.
Energy
Surfboards From Mars has installed LED lighting through the workspace, with plans to explore solar power viability to reduce energy impacts further. The organization is also switching to a more energy efficient, hybrid-vehicle.
Waste
All scrap EPS is taking to a recycling plant where foam is repurposed into packing material or picture frames.

Surfboards From Mars reuses gloves, cups and brushes – minimizing the material footprint of each board and ultimately, waste.

Knowing that material waste makes up a big portion of a surfboard's carbon footprint, the company carefully measures and minimizes the amount of resin used for each board and uses excess resin for ding repairs. Surfboards From Mars also has plans to use excess resin to make fins that incorporate other recycled materials.

Packaging
Most customers are local, so no packaging is required.
Health and safety
Surfboards From Mars made the shift from polyester some time ago and has no plans to use materials other than those Qualified by the ECOBOARD Project. A full suite of personal protective is used when making boards.
| | |
| --- | --- |
| Contact Name |  Surfboards from Mars |
| Contact Phone | (760)521-0513 |
| Contact Email | surfboardsfrommars@gmail.com |
|  Social Media | |
| How Should ECOBOARD Orders Come In? | Contact directly via phone or email |