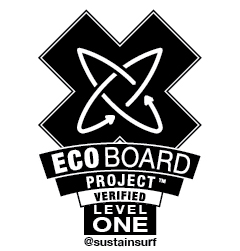 Approved to build

Level One ECOBOARDS

Website
https://sitka.ca/collections/surf
Brand Description
Canadian surf and outdoors brand, 

Sitka

, strives to put the planet first. Based out of Victoria, BC, 

Sitka

 ethically manufactures an exclusive line of certified Level One Ecoboards, and uses natural fibres in all of the outdoor gear they produce.

Sitka exists for outdoor enthusiasts, earth-minded surfers, environmental activists, and all around awesome individuals with a passion for leaving the planet better than we found it.
Surfboard Sustainability
Level One ECOBOARDS using Qualified resins and blanks.

Sitka is committed to living a plastic-free lifestyle and advocating for environmental stewardship. Sitka runs their own non-profit the Sitka Society for Conservation which puts 1% of every purchase towards environmental conservation initiatives.

Sitka proudly produces an entire line of certified Level One ECOBOARDS, made from bio-epoxy resin and Marko recycled foam blanks.