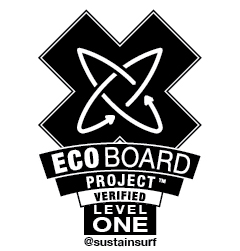 Approved to build

Level One ECOBOARDS

Instagram
 @ROCKETACE_SURFBOARDS
Brand Description
Rocket Ace boards are 100% hand crafted using environmentally conscious materials such as Sicomin Surf ClearEvo Bio-Epoxy resin and recyclable EPS blanks.

Art is hand painted acrylic paint on foam and resin art/tints. Hand made glass on and fin system compatable fins also available in reclaimed ply timber and other natural materials and bio-epoxy resin. Unique and futuristic surfboard designs and modern twists on retro styles, with customers ranging in age from 10-65yrs of age and from beginners to pros.
Surfboard Sustainability
Level One ECOBOARDS using Qualified resins.

Using plant-based epoxy resin from Sicomin and  recyclable EPS blanks. Foam off-cuts are recycled locally into waffle feet for concreting. Plans to begin using natural cloths such as flax, and vacuum bagging for strength and saving on resin waste.