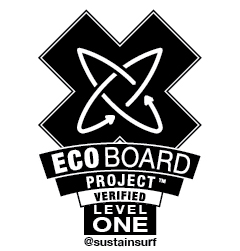 Approved to build

Level One ECOBOARDS

Website
https://www.polensurfboards.com/
Brand Description
In 1988, Polen Surfboards started in Portugal from one of europe's best coastlines, an area offering world class points breaks, along with excellent high quality beach breaks.

They quickly became an important brand in European surfing history, with several important competitive titles won on their boards.

They had a dream and a wish to produce the best surfboards in Europe, boards made from the same high quality materials that one would also find in prestigious areas of the world such as Australia, Hawaii and the USA.

After more than 27 years of manufacturing surfboards, their mission remains the same.

Whether you are a pro or a first timer, Polen look forward to providing you with the ultimate stoke factor!!

Let the good times roll!
Surfboard Sustainability
Level One ECOBOARDS using Qualified resins and blanks.

Polen uses Entropy bio-Resin and recycled EPS Marko Foam.

Their new factory was designed and built considering the need to reduce the brand's environmental footprint.