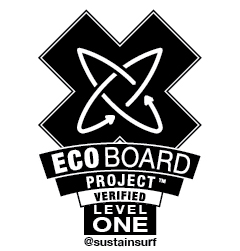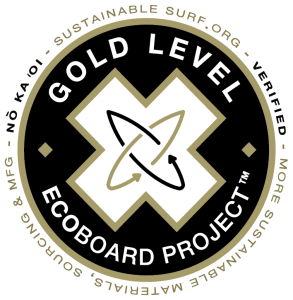 Approved to build
Level One ECOBOARDS and Gold Level ECOBOARDS
Website
http://www.notox.fr/        https://notoxsurfboards.com.au/
Brand Description   
Providing surfers with boards that truly match their values, while making them the most accessible possible, is the aim Notox has been pursuing since 2009. Inventor of eco-built surfboards (based on vacuum bagged flax, cork, recycled polystyrene, bio-epoxy), Notox has kept challenging their processes to produce ever-more responsible and sustainable boards.

In early 2009, they first built a safe, healthy and eco-friendly workshop meeting the highest standards on :
• Air quality
• Noise reduction
• Toxicity
• Security and work comfort
• Sorting of waste

To us, performance is a goal considered equally important as environmental ethics.
• Better vibrations absorption
• Great dynamics
• Lighter weight
• Easier handling

Notox boards produce waste for less than the half their weight, 75% of which is recyclable.

Materials are sourced in France and Portugal, less than 700km away from the Notox factory, resulting in a substantially decrease carbon footprint. These materials come from an organic natural origin or from recycling and provide no toxicity for people and nature.

We seek to leverage costs as much as possible to remain within an affordable scope of price for the majority of surfers, while ensuring the best quality of materials.
And to make our boards even more accessible, we recently developed an entry level board fully covered with raw cork: no more dings, no more wax, fully reparable and definitely stress-free.
ECOBOARD Audit Results
A LCA audit showed that for building a flax board of 3kg, Notox generates 4kg of waste ( all included: sanding dust, fabrics, EPS, Cork, etc.). Then, 75% of these wastes are sorted and sent to recycling (through a network of partners). That means less than 1kg of wastes is needed for building a flax board.

Notox's last range of cork boards has even less waste, with only 500g (mainly cork dust impregnated with resin) generated for building a 3.5kg board

For their sustainability efforts, NOTOX was awarded EuroSIMA ECORIDE GOLD in 2012 (https://www.eurosima.com/nos-actions/ecoride/).

Audit date
 02/15/2018
Surfboard Sustainability
Efforts

Notox uses recycled EPS foam (either from MARKO ENVIROFOAM or local manufacturer), which is then CNC machined and hand finished.

Depending on the specific board technology, Notox laminates the blanks with raw flax fabrics (neither bleached nor treated) or combined with raw cork (produced from recycled cork waste).

The boards are glassed and assembled using bio-epoxy either from SICOMIN (GP56) or ENTROPY (CLR or SUPER SAP ONE). The boards are vacuum bagged in order to strongly press the fabrics or cork against the core (for better strength and performance).
| | |
| --- | --- |
| Contact Name | Pierre Pomiers |
| Contact Phone | (055) 952-3153 |
| Contact Email | pierre.pomiers@notox.fr |
| Instagram | @notoxsurf |
| How Should ECOBOARD Orders Come In? | Email direct. |