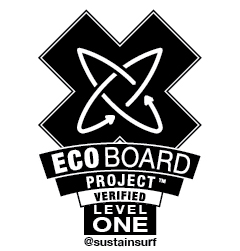 Approved to build

Level One ECOBOARDS

Website
https://www.instagram.com/loop.surfboards/?hl=en
Brand Description
Loop Surfboards started its activity in 2014 in Southern Italy, in Puglia. Since then,
the brand has focused on developing technologies and using materials that ensure values based on sustainability and a deep respect for nature.
Surfboard Sustainability
Level One ECOBOARDS using Qualified Materials.

Loop's Epoxy Flex Core technology uses a recycled EPS stringer-less blank, entropy bio-resin and several kinds of natural fibers (jute, flax, basalt, fiberglass). This technology allows Loop to create surfboards which are lightweight, performance-focused and stronger thanks to vacuum lamination.

Beyond this technologies, Loop is also developing cork and wooden prototypes.
Loop's goal is to create wooden, toxin-free surfboards, using Paulownia Tomentosa trees, cultivated less than 50km away from the factory, and natural sealers.