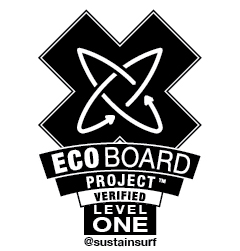 | | |
| --- | --- |
| Approved to build | Level One ECOBOARDS |
| Website | http://www.lakewakes.com |
| Brand Description | Custom wakesurf and wakeskim boards, vacuum bagged, ultralight, zero_glass available. Est. 2008 by Mark Werbenec. |
Surfboard Sustainability
Level One ECOBOARDS using Qualified resins and blanks.

Repurpose breather cloth for clean up rags, repurpose vac bags for garbage bags and drop cloth for shape lam stand. Use of wet-out table to minimize resin waste, hand lay each layer of cloth.Also make a zero-glass board with nylon, PP, skins with CF reinforced core.
Use scrap foam towards packaging in shipping box.
Use custom shipping boxes from Pratt that uses 80+ recycled materials.