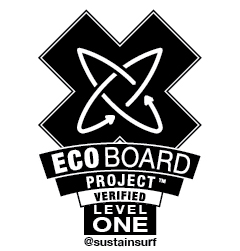 Approved to build

Level One ECOBOARDS

Website
https://www.etcsurfboards.com.au/
Brand Description

ETC stands for Epoxy Timber Constructions. The boards have a layer of paulownia sandwiched between layers of fiberglass on the deck. This makes the board incredibly strong and resistant to pressure dings. The process of building these boards involves vacuum bagging which infuses resin deep into the eps core, which also increases strength. The resultant board is lighter yet much stronger than a traditional PU surfboard. "I only build shortboards (up to 7ft) and mainly create designs that suit the predominate surf conditions we get here on the east coast of Australia." Custom orders are also available.

"I started building this style of board in a bid to get away from the toxic petro-chemicals predominantly being used in the surf industry. Hollow timber boards are great, however I feel they don't allow the level of performance required for a shortboard. Using composite methods and combining recyclable eps foam, natural paulownia wood and bio-epoxy resins, high performance is still maintained whilst obtaining massive improvements in strength and board longevity."

"I also build an eco-board that is not in-cased in a layer of fiberglass. Instead, the eps core has a skin of paulownia vacuum bagged to it and is finished in lanolin oil. When the lanolin gets wet it becomes "sticky" so no wax is required. It is about as green as you can get when it comes to eco surfboards".
Surfboard Sustainability
Level One ECOBOARDS using Qualified Materials.

Use of sustainably harvested paulownia wood in boards
Use of entropy super-sap epoxy resin.

Off-cuts of paulownia are re-used in decks on new boards. Any other unusable wood is taken on camping trips and used as firewood for cooking.

Use of eps foam: "although its not the best eco material at least it is recyclable – when better materials become available and are financially viable I will endeavor to use them."

A 6kw solar system helps run the tool. "I only use power tools during the day when my electricity is free (with the exception of vacuum bagging as I only glass at night in falling temperatures)."
| | |
| --- | --- |
| Contact Name | Stephen Hann |
| Contact Phone | (043) 220-2400 |
| Contact Email | etcboards@gmail.com |
| Instagram | green_stix |
| How Should ECOBOARD Orders Come In? | Direct contact either through Instagram or email |