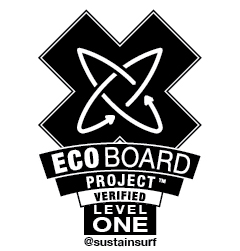 Approved to build
Level One ECOBOARDS
Brand Website
 http://escapesurfboards.com
Brand Description
Escape Surfboards is a small team dedicated to all surf sports. We shape all forms of surf craft, and are actively involved with most surf sports including surfing, windsurfing, kite surfing, and stand up paddle boarding.We don't believe that being a good shaper means you only shape one style of board, all our surf sports benefit from each other, whether it's by way of the construction system, or the fin position we learn loads every time we take to the water.

We shape custom surfboards, custom kite boards, custom stand up paddle boards, and custom windsurfers to either your own design or you can benefit from our many years of experience and let us shape the made to measure surf board that will best suit your personal requirements. When you buy a surfboard, kiteboard, SUP or windsurfer from us we are sure you will be happy with the result.
| | |
| --- | --- |
| Surfboard Sustainability | Level One ECOBOARDS using qualifying resins and blanks |
| | |
| | |
| --- | --- |
| Contact Name | |
| Contact Phone |  0044 (0)1208 863962 |
| Contact Email |  info@escapesurfboards.com |
|  Social Media | |
| How Should ECOBOARD Orders Come In? |  Contact us directly to order your board. |