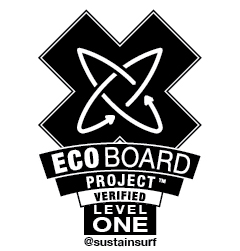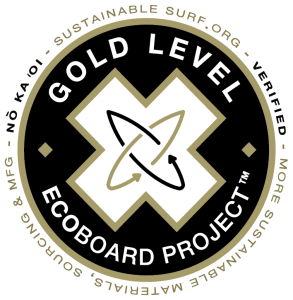 Approved to build

Level One ECOBOARDS and

 Gold Level ECOBOARDS
Brand Website
https://earthtechsurf.com/
Brand Description

In their California-based factory 

Earth Technologies custom build hand-crafted and artistic surfcraft that creates stoke in and out of the water.

 

"Simply put, we make the raddest shortboards, mid-lengths, longboards, and SUPs, that also keep our Mother Earth stoked by using only the most eco-friendly and sustainable materials and processes."

Earth Technologies glass boards in Qualified Materials for some of the best shapers, including Lost, Maurice Cole and Roberts.

Earth Technologies also feature their craftsmen's house-brands:
Ecoboard Audit Results
Earth Technologies manufacturing site was audited by Sustainable Surf. The company has effective processes to ensure approved materials are used in boards using both ECOBOARD labels.
Audit date
9/1/2016
Surfboard Sustainability
Efforts

Earth Technologies operates under 3 Core "E" Principles.

1. Excellency in Craftsmanship. We take great pride in our American Hand-Crafted, California made boards. Our boards are the anti-thesis to disposable Asian "pop-outs" as they are made by the highest skilled craftsmen in the business and made with the best performing materials resulting in "Rad Boards, Made Right.."


2. Eco-Sustainability.  We are all Ocean-Lovers. As such, over the years we've painstakingly tried and perfected performance board building utilizing only the most eco-friendly materials (EPS recycled blanks, bio epoxy resin, wood veneers) and processes (recycling foam blank cut offs, bio epoxy resins, etc.) featuring our renown Earth Technologies board construction.


3. Education. In addition to being surfers, we are also story-tellers. We have made a deliberate attempt through our many communication channels (social media, website, printed board catalogs, etc.) to share with others our unique eco board construction and demonstrate why there need not be a tradeoff between performance and eco-sustainability.
| | |
| --- | --- |
| Energy | Has measured their energy consumption for the past year. Currently looking for ways to reduce energy consumption. |
| Waste | When using Super Sap resin, waste resin is frequently applied to hand-planes. When using Re-Rez, waste resin is saved and will be returned to Re-Rez.  Clean fiberglass off-cuts are saved and sent to Push Fins. EPS scraps are saved and recycled with Marko Foam. |
| Packaging |  N/A – Boards are generally hand-delivered. |
| Health and safety | Polyester resin is not used by the factory. All employees are strongly encouraged to wear protective clothing to keep epoxy away from skin. |
Contact
| | |
| --- | --- |
| Contact Name |  Ryan Harris |
| Contact Phone | |
| Contact Email |  ryan.etechboards@gmail.com |
| | |
| How Should ECOBOARD Orders Come In? | Email Ryan to order a board from one of the house brands, or to arrange a glassing order. |