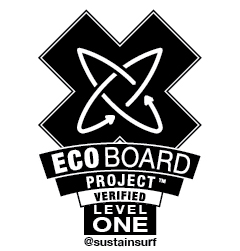 Approved to build

Level One ECOBOARDS

Website
www.facebook.com/DaniVilaShapes/
Brand Description
DV Shapes was born in January of 2016, although with some years experience in manufacturing surfboards in other brands and industries. The company manufactures Surfboards , kite surfboards and SUP boards with EPS core stringer-less and Bio-Based Epoxy Resins (SuperSap).

DV Shapes is committed to environmentally-conscious manufacturing using bio-based materials.
Surfboard Sustainability
Level One ECOBOARDS using Qualified Materials.

The initial objective is the use of ecological materials and non-harmful processes: Together with the EPS we make use of bio-based epoxi RESIN (Súper Sap), and coating materials such as core cork (biomaterial) for surfboards that require mechanical resistance anf flexibility in their constructions, with laminations with compaction by vacuum bag.
We are in continuous improvement for the use of new green materials and substitution by the synthetic ones, for example changing the glass fiber by flax fiber (linen), and applying other fibers like the jute fiber (Biotex)
On the other hand, EPS leftovers are returned to the supplier for recycling.

The next important objective, in the near future, is the total adequacy of the process, in order to it was the most as sustainable as possible in each section