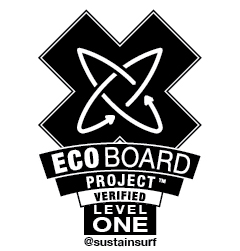 Approved to build

Level One ECOBOARDS

Website
http://www.dmshapes.com
Brand Description

 Dan MacDonald has established himself as one of Australia's most versatile shapers. Dan has traveled the globe extensively, learning from some of the worlds most respected shapers and craftsman. Using this knowledge and experience, Dan has forged his own path with a focus on performance.

Creator of the patented CARBON WRAP® technology combining the benefits of an EPS core, stategically configured Uni – directional carbon fibre and EPOXY resin. Dan maintains a keen eye for function with a passion for classic methodology, premium quality and a post modern fusion of design and materials to create unique craft. DMS surfboards are manufactured on the Gold coast of Australia while inspiring the future of performance driven design globally.
Surfboard Sustainability
DMShapes is approved to build Level One ECOBOARDS using Qualified Materials.

In addition working with ATL Composites on the Gold Coast to develop a certified bio-epoxy resin. Along with this DMS is working on changing materials used in production to more environmentally sound options. In their Patented Carbon Wrap Technology they are replacing the Carbon with Basalt and looking into plant based cloth for lamination.

DMS is eliminating harmful chemicals such as acetone for cleaning applications and replacing with alcohol based cleaners and using water based paints as opposed to thinner based acrylic. Carbon filters are also used in lamination rooms to prevent contaminated air exiting the factory.

DMShapes is also using recycled paper packaging.