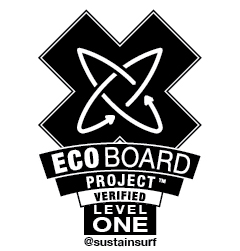 Approved to build

Level One ECOBOARDS

Website
http://www.districtshapes.com
Brand Description
Custom Hand-shaped surfboards made 100% start to finish by Nathaniel Horne on Nantucket, Island MA

All boards are glassed with Entropy Resin's Super Sap plant-based epoxy. Customers are given option of either polyurethane blanks or Marko Foam's recycled foam. When customers are unsure of what materials to choose, the eco-board combo of Marko and Super Sap is always the go to suggestion.
Surfboard Sustainability
Level One ECOBOARDS using Qualified resins and blanks.

As a very small board building business, it is important to be mindful of waste and recycle materials whenever possible. After being turned off by the traditional method of polyester resin glassing, the bio-resin is a huge breakthrough that re-ignited Nathaniel's passion to make more boards.

Being able to use the recycled foam with the Super Sap is important because it provides shapers with the opportunity to be environmentally conscious ambassadors to the surf industry, introducing surfers to boards that are created not only with performance in mind but also the environmental impact of the manufacturing process.

District Surfboards is committed to continuing the push to create more sustainable surfboards. Located in New England on an island, where the surf community is small but committed, it is Nathaniel's hope that District can create a niche for locally made sustainable surfboards and inspire people to understand the importance of supporting local and sustainable craftsmanship and realize that eco-friendly surfboards not only perform as well as traditional boards, but also that eco-boards are the way of the surfboard industry future.