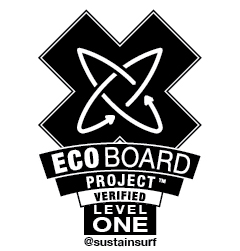 | | |
| --- | --- |
| Qualifying boards | Level One ECOBOARDS |
| Brand Website |  http://www.coltsurfboards.com |
| Brand Description | Colt Surfboards mostly make high performance and small wave boards, but also make fun boards for customers. Colt's latest surfboard model has rails that have a side cut like a snowboard and are a lot smaller than standard high performance surfboards. |
Surfboard Sustainability
Level One ECOBOARDS using Qualified resins and blanks

Colt only use super sap epoxy resin and Marko foam blanks for all surfboards.  All of the scrap foam is saved and recycledt at FarWest recycling center in Hillsboro, Oregon.