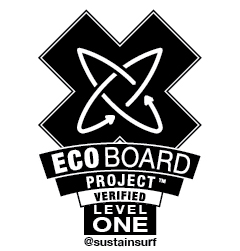 Approved to build

Level One ECOBOARDS

Instgram
 @coalsurfco
Brand Description
Coal is a surfboard/riverboard manufacturer based in Switzerland. Their goal is to build products which are produced with eco-friendly materials like Entropy bioiresin and 100% recycable EPS foam.

They produce boards designed to last much longer than normal 4+4/4 oz laminated standard boards, because of the stronger and heavier lamination or wood decks. And last but not least: they build boards in Switzerland for riversurfers living in Switzerland.
Surfboard Sustainability
Level One ECOBOARDS using qualifying resins and blanks

Wastes such as EPS cutoffs are collected and sent back to the manufacturer. Electricity used on site is either wind or hydro power.