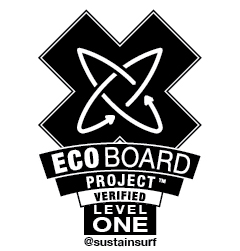 Approved to build
Level One ECOBOARDS
Brand Website
 http://canvassurfboards.com
Brand Description
CHRISTIAN WACH

AS THE FOUNDER AND CREATIVE DIRECTOR AT CANVAS SURFBOARDS, CHRISTIAN WACH HAS A CLEAR VISION FOR THE BRAND. AT THE AGE OF 18 YEARS OLD, CHRISTIAN CONCEPTUALIZED CANVAS IN HIS PARENT'S GARAGE AND HAS SINCE EXPANDED THE BRAND INTERNATIONALLY. THE IDEA BEHIND THE NAME WAS TO BRING CREATIVE FREEDOM TO SURFBOARDS. CHRISTIAN SAW THE POTENTIAL IN TAKING BORING WHITE SURFBOARDS AND BRINGING LIFE TO THEM WITH ABSTRACT RESIN TINTS, ART, AND SIMPLICITY. ALONG WITH ATTRACTIVE COLOR WAYS, EVERY CANVAS MODEL HAS BEEN THOROUGHLY TESTED IN OUR AMAZING SOUTHERN CALIFORNIA SURF. EVERY CANVAS SURFBOARD IS COMPLETED WITH ATTENTION TO DETAIL BRIDGING THE GAP BETWEEN FUNCTION AND AESTHETICS.

RYAN ENGLE

RYAN ENGLE IS THE SHAPER BEHIND EVERY CANVAS SURFBOARD WE MAKE. UNLIKE A LOT OF SURFBOARD SHAPERS, RYAN METICULOUSLY SHAPES EVERY BOARD PAYING EXTRA ATTENTION TO THE FINEST DETAILS. AS AN AKU SHAPER EXPERT, RYAN USES THE AKU SHAPING MACHINE TO MILL EACH BOARD. BY HAVING AN EXACT FILE, HE CAN RECREATIVE EACH AND EVERY MODEL WITH EXACT PRECISION. AN EXCEPTIONAL SURFER HIMSELF, RYAN FINE TUNES EACH AND EVERY MODEL FOR THE DESIRED RIDE.
| | |
| --- | --- |
| Surfboard Sustainability | Level One ECOBOARDS using qualifying resins and blanks |
| | |
| | |
| --- | --- |
| Contact Name | |
| Contact Phone |  949-412-4709 |
| Contact Email | |
|  Social Media | |
| How Should ECOBOARD Orders Come In? |  Contact us directly to order your board. |