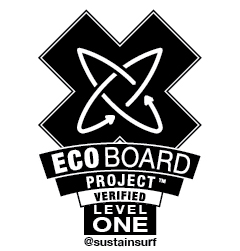 Approved to build

Level One ECOBOARDS

Website
www.arbosurfboards.blogspot.co.uk
Brand Description
ARBO makes bespoke hollow wooden surfboards and run build-your-own courses in Europe and the UK.
Although they sometimes do other interesting projects like recycled cork boards, no glass-all wood, cork-wood sandwich paipos, handplanes, skateboards, about 80% of the boards they build are paulownia skins over a poplar plywood skeleton, sealed and reinforced with a layer of 4oz. fibreglass and entropy epoxy resin.Shapes are postmodern and always tailored to their customers – a group who mainly participate in surfing as a holiday or weekend activity. Designs reflect that and most of the time ARBO's boards have a little bit of extra volume, but always according to the surfers ability, weight, surf area and surfing style.
Surfboard Sustainability
Level One ECOBOARDS using Qualified Materials.

Sustainability is embedded with ARBO's brand and identity. Boards are made using a range of more sustainable materials including:

Sustainably sourced, plantation grown paulownia for skins and rails – with offcuts reused for skateboards, handplanes and paipos.
A sustainably sourced european poplar skeletons.
Entropy resin with a laminating technique that has near zero wastage.
Recycled XPS insulation foam as finbox reinforcements.
Green energy sourced from ecotricity.
Recycled cardboard packaging from local surfshops.

"The key to a sustainable surfboard is to make it last. Our hope is that a customer will look after a personalised, bespoke board differently than a generic off-the-shelf product and value it higher.
A big part of our philosophy is keeping things small… e.g. we have the smallest possible workshop to reduce heating. our company car runs on lpg, is euro5 emissions certified and is as small as possible. Instead of inviting lots of people to our place in cornwall to build their boards, we come to their place and set up temporary workshops at co-working projects. Better having one person travelling to meet the people where they live than 5 people travelling to meet us down here in cornwall…

We do not advertise our boards as 'ecoboards', 'sustainable', 'green', etc. but encourage our customers instead or additionally to put their focus on changes in lifestyle choices and habits.
Advertising is kept to a minimum and without not-product related 'brand-image' lifestyle marketing.
We believe in making more eco-friendly surfboards but think that other things in a surfers life will have a much bigger impact – just like Sustainable Surf" – Paul Reisberg, ARBO